Fumiko Okuno
Sports Commentator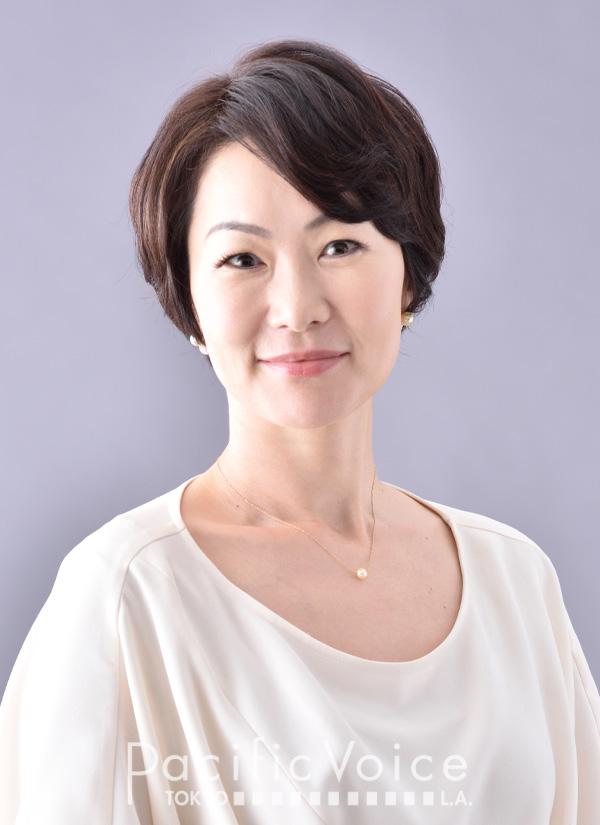 Profile
Bronze medalist of Synchronized Swimming in Barcelona Olympic 1992.
She used to be a Member of Cirque du Soleil, as a performer from 2000 to December of 2002. She appeared in the stunning show " O" at Bellagio in Las Vegas. She married to Nobuhiro Asahara,
an athlete of Japan National team, in 2002, And she has three children. Based on the experience as a top athlete, she's fascinated the viewers widely with her sharp comment.
Data
| | |
| --- | --- |
| Place of Birth | Kyoto, JAPAN |
| Date of Birth | APRIL 14 1972 |
| Height | 160cm |
| Weight | 47.0kg B 79 cm W 60 cm H 90 cm S 24 cm |
| Interests | Music, Watching sports games |
| Special Skills | Swimming, Scuba diving |
| License | Driver's license, Scuba diving |
| Education | Doshisha University postgraduate course |
| Hair | Dark Brown |
| Eyes | Dark Brown |
Actual results
TV
2009.6
YTV 「ten!」Regular commentator
2008.6
YTV 「WAKE UP PLUS」Regular commentator
2008.6
YTV 「MIYANEYA」commentator
2008.4 –
2008.12
BS-FUJI 「KYOTO JUKU」Regular reporter
2007.2 –
2009.9
KTV 「MONTHLR KANTERE HIHYO 」 Regular commentator
2007.1 –
2009.3
KTV 「SUPER NEWS ANCHOR」Regular commentator
2005.4 –
2006.6
TBS 「EVENING FIVE」Regular commentator
2005.3 –
NHK 「SUTEKINI HAND MADE」Regular commentator
1999.10 –
2000.3
MBS 「CHICHIN PUI-PUI」Regular commentator
1999.4 –
1999.9
ANB 「CHARENGE TUME・SPORTS」Navigator
1998.4 –
2000.3
ABC 「MACHIKADO CHA-CHA-CHA!」Semi-regular
1998.4 –
2000.3
KBS 「SATURDAY FU」Main caster
1998.4 –
2000.3
ANB 「YAJIUMAWIDE」Regular commentator
1998.2
NHK-HI 「NAGANI Olympics Live」Main caster
1997.7 –
1997.8
NHK-HI 「Atlanta Olympics Live」Main caster
1997.4 –
1997.9
KBS 「NEWSWIDE KYOTO」Regular reporter
1996.4 –
1996.9
TBS 「KINNNIKU BANZUKE」Regular reporter
1996.4 –
1997.3
NHK 「OHAYO NIPPON」 Sports corner Regular reporter
1995.4 –
1996.3
KTV 「WEEKLY TAO SPO!」Regular commentator
1995.3 –
1997.9
NHK 「WORLD CUP ENO MICHI 2002」Personality
RADIO
| | |
| --- | --- |
| 2013.4 | "NEMURENAI ANATAE " (NHKFM-RADIO) |
| 2008.4 | "KANSAI SATURDAY HOT TIME" (NHK-RADIO) |
| 2009.4 | "EENAA" (MBS-RADIO) |
| 2009.4 | "CHARENGER SPIRITS" (ABC-RADIO) |
| 2009.4 | "SHIN-SEIKI RADIO UTAE! Don Quixote" (TBS-RADIO) |
PUBLICATION
| | |
| --- | --- |
| | THE MAINICHI NEWSPAPERS "MAY LIFE STYLE" |
| | THE SANKEI SHINBUN「TABI NO ESSAY」(1997.11 – 1997.12) |
| | THE YOMIURI SHINBUN「FREE HAND」(1997.5 – 1998.4) |
| | SANKEI NEWSPAPERS "KIMAMA NI MERMAID" |
CM
2008.11 –
2014.10
KOMATSU SEIREN
1999.10 –
2000.3
MINISTRY OF HEALTH,LABOUR ANDWELFARE "Nursing insurance system"CM (1999.10~2000.03)
RESULTS
| | |
| --- | --- |
| 1986 | International AG Tournament《Madrid》 S1 D1 |
| 1987 | Mallorca Open《Palma》 T3 |
| 1989 | Jr.World Cup《Gali》 S3 T3 |
| 1990 | American Cup《Los Angels》 S2 D2 |
| 1990 | FINA World Cup《Paris》 T3 |
| 1991 | Pan Pacific《Tokyo》 S3 D2 T2 |
| 1991 | FINA World Cup《Bon》 S3 D2 T4 |
| 1991 | Pre Olympic《Barcelona》 S3 D2 |
| 1992 | Japan Championship《Shizuoka》 S2 D1 |
| 1992 | Roma Open《Roma》 S2 |
| 1992 | Barcelona Olympic S3 D3 |
| 1993 | Japan Championship《Nagoya》 S1 D1 T1 |
| 1993 | FINA World Cup《Lausanne》 S4 T3 |
| 1993 | Pan Pacific《Calgary》 S1 D1 T1 |
| 1993 | China Open《Tianjin》 S1 D1 |
| 1994 | Japan Championship《Tokyo》 S1 D1 T1 |
| 1994 | Mallorca Open《Palma》 S1 D1 T1 |
| 1994 | France Open 《Mennecy》 S3 D3 T3 |
| 1994 | World Championship《Roma》 S2 D2 T3 |
| 1994 | Asia Tournament《Hiroshima》 S1 D1 |
| | ※Note: S stands for Solo, D stands for Duet and the following number explains each ranking. |
AWARDS
| | |
| --- | --- |
| | The Ministry of Education / Contributing to Sports Award |
| | I.O.C / Olympic Special Award |
| | Kyoto Prefecture / Honor in Sports |
| | Osaka Prefecture / Golden Sports Award |
| | Kyoto Prefecture / Akebono Award |
| | TV Asahi / Big Sport Award |
| | Yomiuri News Paper / Japan Sports Award |
COMMITTEE
| | |
| --- | --- |
| | Japan Swiming Federation Athlete Member |
| | Kyoto City Board of Education Committee Member |
| | Kyoto Grand Vision Deliberative Assembly |
| | Kyoto General Exploiting Deliberative Assembly |
| | Kyoto Society For The Study Of Planning A Creative City In The South Direct |
| | Kyoto Visions For The Human Society To 21th Century |
| | Osaka Revitalizing Education Deliberative Assembly |